Transform Core Financial Activities with Sage Intacct
CLOUD SOFTWARE FOR THE SAVVY FINANCE TEAM
Increase Financial Accuracy, Visibility, Flexibility, and Speed
Get the scalable, multi-dimensional, and automated accounting functionality you need and none of the manual, error-prone practices you don't. With Sage Intacct, you gain a sophisticated cloud accounting solution right sized for your business that provides critical visibility into your finances and operations to inform better business decisions. Learn how SC&H's technical design experts and experienced CPAs can help your organization customize an end-to-end system buildout that will empower your accounting and finance team to increase efficiency and accelerate success.
You'll be redirected to a calendar tool after submitting the form where you can then book your one-on-one session.
Schedule Your 30-Minute Demo
Complete the Form Below to Access our Calendar Tool.
Shorten financial cycles
Improve financial controls
Create better audit trails
Increase employee productivity
Deploy transparent financial dashboards
Access accurate reporting and analytics
Streamline business processes
Accelerate financial growth
Gain Flexible, Innovative Cloud Integrations
Through Intacct's open API, you can access an extensive marketplace to easily integrate true cloud technologies and expand core capabilities. Flexibility for the long term is built-in without the need for back-office IT. This means not having to worry about software updates, ransomware attacks, or unreliable servers. Choose dependable modules and dashboards that meet your requirements and configure the system to satisfy your internal and external demands.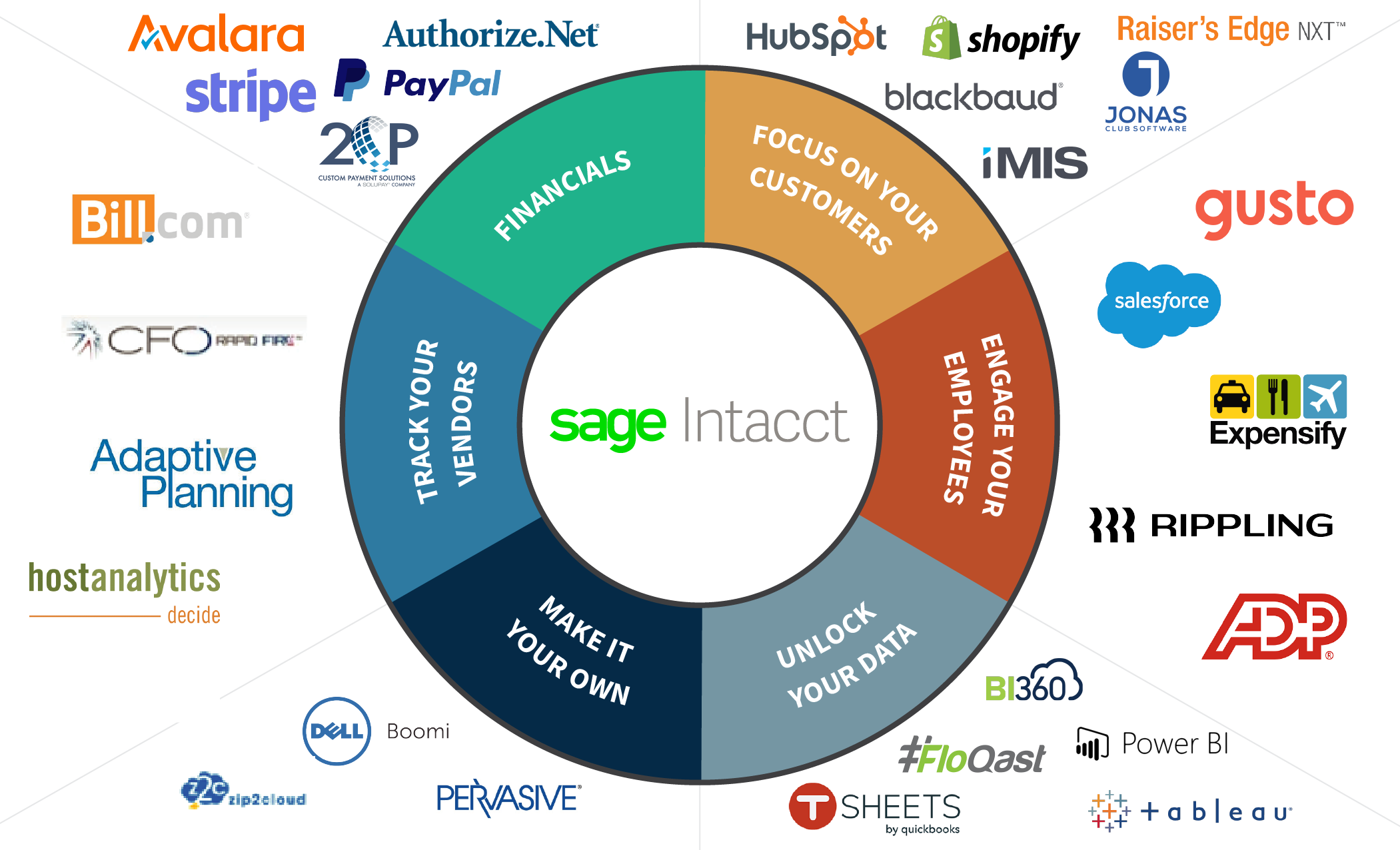 Ready to See if Sage Intacct is Right for Your Business?
We're here to listen to your needs, not to sell you something you don't need. Every business is different and, like you, we want to ensure this is the right fit. Whether seeking a system upgrade or resolving misalignments within your current system, we're confident we can get you where you want to be. Our 30-minute Sage Intacct demonstration is an opportunity to discuss your accounting gaps, challenges, and opportunities and share how Sage Intacct can help meet your team where they are today.
Your Go-To for Intacct Implementation and Support
As a certified Sage Intacct Partner, we work with your team to identify the necessary modules and integrations, implement them over a defined timeframe, and provide comprehensive training and support. With technical knowledge and hands-on proficiency, SC&H is your one-stop shop for function, form, user experience, flexibility, and ongoing advisory. Irrespective of business size or budget, we have a model that will meet you where you are and scale as you grow.
Click here to learn more.
Accounting Expertise That Spans All Your Needs
With both technical design experts and experienced CPAs, you get the best of both worlds rarely found in our competitive space. Our accounting professionals have not only successfully implemented Sage Intacct for more than 75 companies but also possess practical and applied software experience from years of routine use. This means the services and solutions we can offer your business during implementation also extend far beyond it.
Outsourced Accounting
Expert accounting, reporting, forecasting, and budgeting at a fraction of the cost of a full-time, in-house hire.
Outsourced CFO Advisory
Accurate, timely, and secure financial guidance from experienced Chief Financial Officers.
Intacct
Consulting
Advisory and ongoing training from technical experts and CPAs to maximize your software capabilities.