Measure Marketing Impact in One Spot
MORE MEANINGFUL DATA, LESS MANUAL WORK
Get the Results You Want With Intelligent Data
Whether looking to consolidate multiple sources of data, establish real-time and accurate reporting, or implement a comprehensive data strategy across all marketing channels, SC&H's Data Analytics experts can get it done. Our 30-minute one-on-one data consultation is an opportunity to discuss your data challenges and explore the right-fit solutions. Talk with a team member today.
You'll be redirected to a calendar tool after submitting the form where you can then book your complimentary one-on-one session.
Schedule Your Free Consultation
Complete the Form Below to Access our Calendar Tool.
Achieve Data That Puts You in Control
From advanced data modeling and warehousing to visualization and business intelligence, standardize your organization's methods for collecting, evaluating, and measuring success across the full suite of digital marketing channels. Our team works with executive and leadership teams to consolidate existing platforms and implement appropriate data technologies to help:
1

Gain executive and stakeholder access to real-time performance analytics to determine impact.

2

Identify leading and lagging indicators and benchmark, compare, measure data against time.

3

Discern the end-to-end user journey across owned, earned, and paid media channels.

4

View, filter, and analyze data from paid, digital, and organic campaigns in a single source.

5

Reduce reliance on agency-provided information and data while increasing cross-functional collaboration internally.

6

Prioritize revenue-generating initiatives based on historical data and experimentation.
Below are sample dashboards pulled from a recent client engagement. There are so many possibilities to create dashboards tailored to your team's data display, visualization, analysis, and reporting preferences.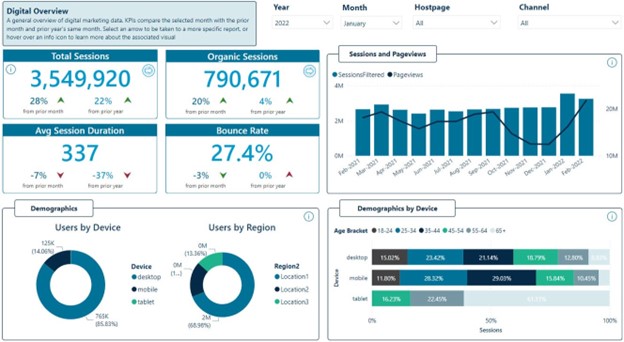 Digital Dashboard
Total access to a concise and comprehensive view of traffic and engagement generated by digital campaigns with the ability to filter by time period, channel, and other preferred views.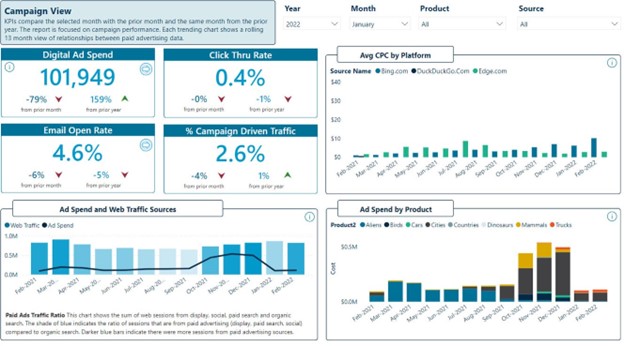 Campaign Dashboard
Display data by campaign source (paid, email, content, web, media, social, etc.) and break it down by spend and performance details that can be filtered by campaign type, year, month, product, and source.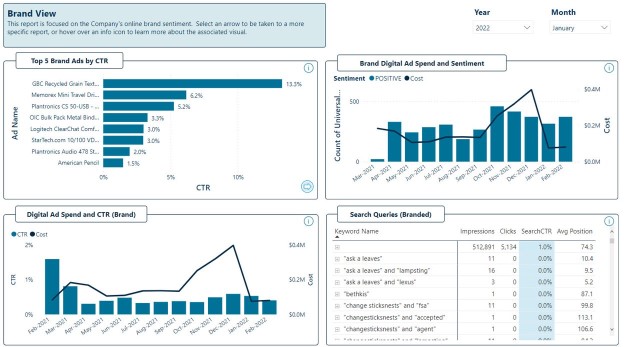 Executive Dashboard
Executives and stakeholders now have access to the most critical analytics, while drill-downs and tooltips provide the option to get more detailed information about various data points.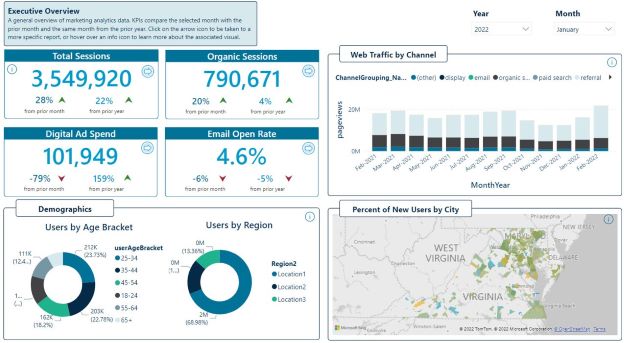 Brand Dashboard
Measures efficacy through brand-specific paid ads (utilizing a brand sentiment tool), branded search queries, and search impressions and clicks that demonstrate how paid activity and search align.
Achieve Reporting That No One Can Ignore
Every marketing team has unique data requirements. Whether your need is big or small, SC&H Data Analytics can meet your team where they are, collaborate on solutions that make sense for your team, and ensure you feel confident in the direction forward. Hit them with data that undeniably demonstratea marketing's impact. Let us help.